← Back to portfolio
Pride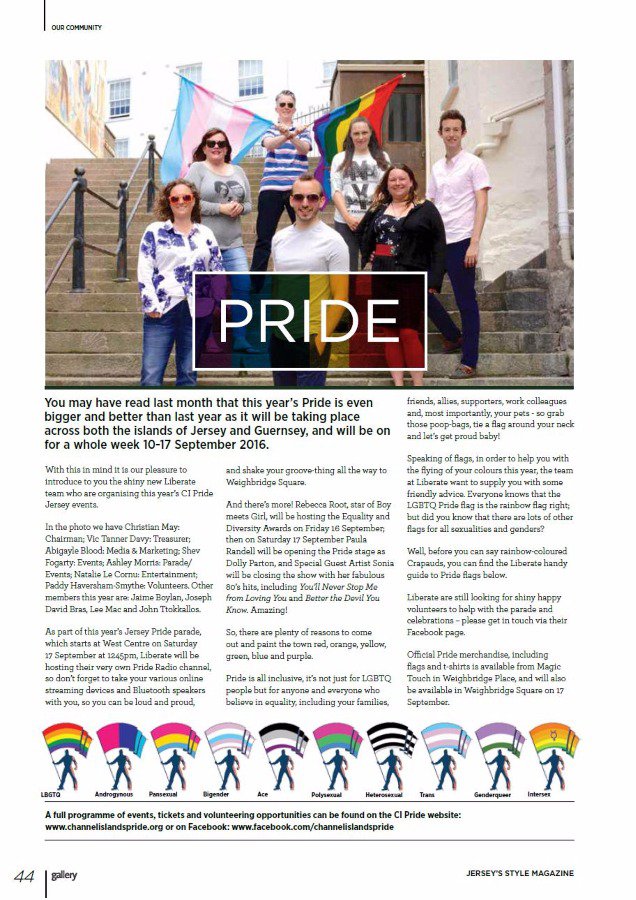 You may have read last month that this year's Pride is even bigger and better than last year as it will be taking place across both the islands of Jersey and Guernsey, and will be on for a whole week 10-17 September 2016.
With this in mind, it is our pleasure to introduce to you the shiny new Liberate team who are organising this year's CI Pride Jersey events.
In the photo, we have Christian May: Chairman; Vic Tanner Davy: Treasurer; Abigayle Blood: Media & Marketing; Shev Fogarty: Events; Ashley Morris: Parade/Events; Natalie Le Cornu: Entertainment; Paddy Haversham-Smythe: Volunteers. Other members this year are: Jamie Boylan, Joseph David Bras, Lee Mac and John Ttokkallos.
As part of this year's Jersey Pride parade, which starts at West Centre on Saturday 17 September at 12:45pm, Liberate will be hosting their very own Pride Radio channel, so don't forget to take your various online streaming devices and Bluetooth speakers with you, so you can be loud and proud, and shake your groove-thing all the way to Weighbridge Square.
And there's more! Rebecca Root, star of Boy meets Girl, will be hosting the Equality and Diversity Awards on Friday 16 September; then on Saturday 17 September Paula Randell will be opening the Pride stage as Dolly Parton, and Special Guest Artist Sonia will be closing the show with her fabulous 80's hits, including You'll Never Stop Me from Loving You and Better the Devil You Know. Amazing!
So, there are plenty of reasons to come out and paint the town red, orange, yellow, green, blue and purple.
Pride is all inclusive, it's not just for LGBTQ people but for anyone and everyone who believe in equality, including your families, friends, allies, supporters, work colleagues and, most importantly, your pets – so grab those poop-bags, tie a flag around your neck and let's get proud baby!
Speaking of flags, in order to help you with the flying of your colours this year, the team at Liberate want to supply you with some friendly advice. Everyone knows that the LGBTQ Pride flag is the rainbow flag right; but did you know that there are lots of other flags for all sexualities and genders?
Well, before you can say rainbow-coloured Crapauds, you can find the Liberate handy guide to Pride flags below.
Liberate are still looking for shiny happy volunteers to help with the parade and celebrations – please get in touch via their Facebook page.
Official Pride merchandise, including flags and t-shirts, is available from Magic Touch in Weighbridge Place, and will also be available in Weighbridge Square on 17 September.
A full programme of events, tickets and volunteering opportunities can be found on the CI Pride website: www.channelislandspride.org or on Facebook: www.facebook.com/channelislandspride